MAKE UP BRUSHES BY CVL BEAUTY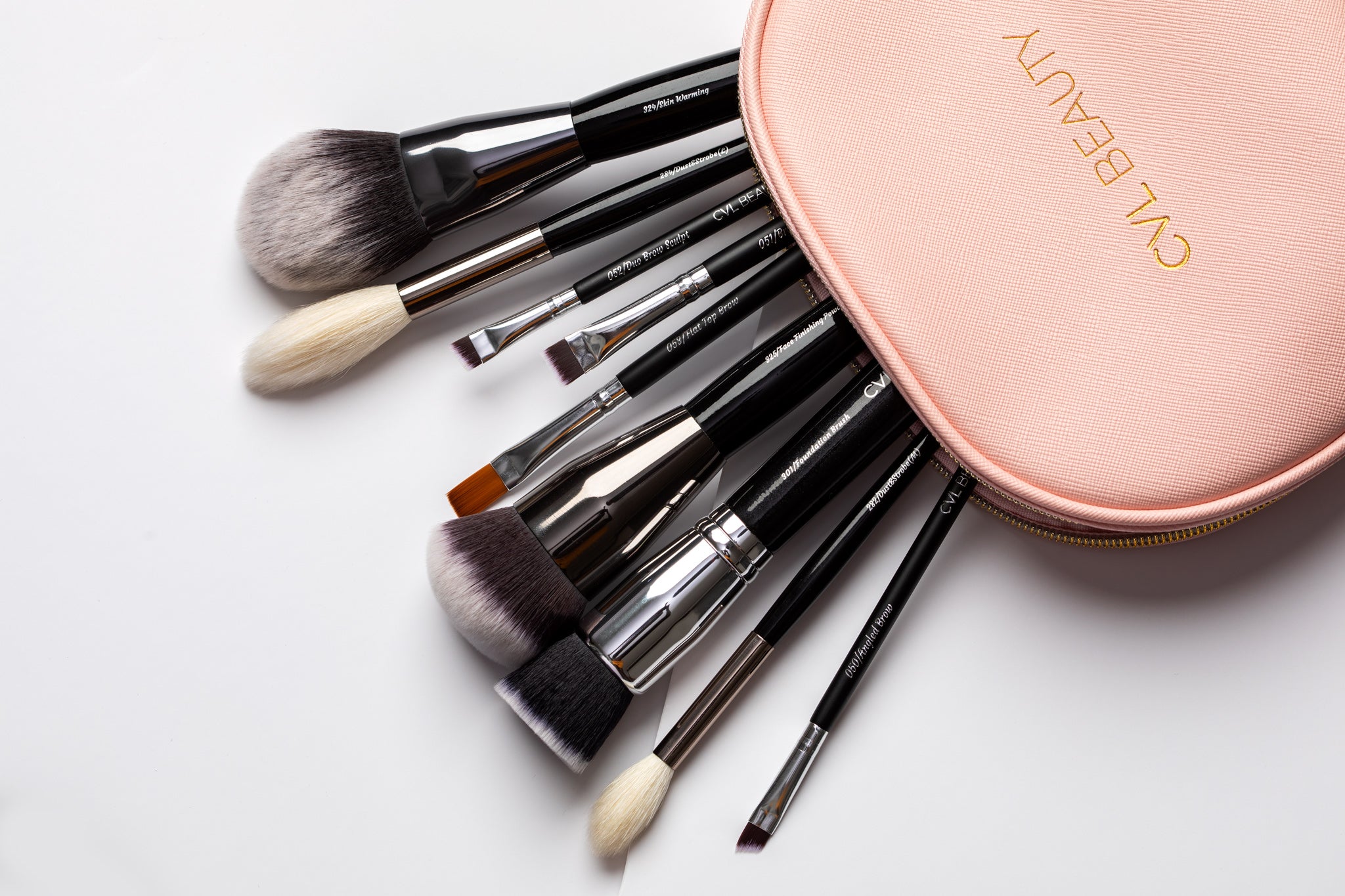 The Evolution of our brushes and tools since 2017
Remember when you were a newbie and you wore all your makeup with just one or two brushes and maybe your fingers? Well, look how far you've come! And it's incredible how we love to invest in quality products like foundation, powder, finishing spray…the list is endless, while our brushes and tools are usually an after-thought. This is rather unfortunate because the brushes and tools make the entire application process worth your while. This is why over the past few years, we have invested in providing you with the quality brushes that will help you achieve a more professional, natural finish.
We started out in 2016 with set of ten white brushes including 6 eye shadow brushes. These were simple and cute but we wanted something that would have more personality. And so, in 2018, our spoon brush set rolled in with style and elegance.
We chose this design because it was trendy and popular at the start of 2018. We learned soon enough though that functionality should be the main driver of the design of our merchandise and not the current trend. Naturally, we did a major overhaul on the entire brush set and we came up with these pink beauties:
These brushes caught on really quickly because the design is mild and pretty to look at, comfortable to hold and of course durable. We included these in our lifestyle gift set whose packaging alone gave our brushes a whole lot of aesthetic leverage.
Of course, we never have compromised on functionality. Consider our Angled Brow Brush which is flatter and sharper than most to help you properly define your brows. As time and experience would have it, we noticed the frustrations resulting from a lack of affordable professional tools and accessories. This birthed our budget-friendly pro sets, made for artists who need to roll up their sleeves and get to work. Our main focus though with the design of this brush set was practicality. The monochrome just says "I'm here for business" and of course nothing says Pro MUA like a well-organized kit.
After cleaning your brushes, they can be well tucked away in a protective pro boss organizer or pro roll case.
While brushes are very important, they're not everything. We decided to incorporate other tools with features we couldn't find on the market. Take for example our titanium rose gold coated Precision Point Tweezer which is durable and made to meticulously place on natural lashes & gently press together.
Our latest addition to the family so far is a handy new touch up kit.
We incorporated all the essential tools you need to maintain the fresh look you started the day with in a demure pouch. In it we have our new foundation brush, blotting sheets, hand fan and hand mirror. I bet by now you're wondering, "where can I get my own set of CVL beauty brushes and tools?" Well, we have our awesome retailers here in Accra – Seraphim Beauty Store; East Legon, Swanky Beauty Supply; Nima, Juben House Beauty; Tesano and Oshewa Beauty in Nigeria. If you are a little further out, no need to fear, our online shop is here and we deliver to just about every location worldwide.
We hope you have enjoyed reading about our journey and we invite you to be a part of our story. Please leave a comment below to let us know what your experience has been with our products. You never know, we might use what you say to brush things up a little?